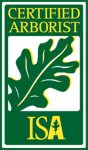 We are ISA certified, experienced arborists, offering high quality tree services. You can be assured that you and your trees are in the best of hands.
Evan Haupt
ISA Certified Climbing Arborist
Tom Kimszal
ISA Certified Climbing Arborist
Colin O'Hare
ISA Certified Climbing Arborist
Max Batey
ISA Certified Climbing Arborist
Our Arborist History
Advantage Tree Care (ATC) has been operating since 2008 in Victoria BC and is comprised of a dedicated and growing team of experienced arborists who are passionate about the work they do.
ATC was established  by Daniel Chamberlain who moved to Canada  from New Zealand, where he had previously been working as an aborist, holding the journeyman arborist qualification.  ATC has been building and maintaining a valued client portfolio in both the residential and commercial sectors.
As a well respected arborist in the industry, Daniel's reputation and hard work ethic has meant that he has been able to build a reliable and successful tree care company. His professional and welcoming attitude  is what makes Advantage Tree Care a safe and fun place to work as well as making it one of the most client friendly tree services in Victoria.
See what our customers say about us. Read our tree service reviews.
Our Values
Advantage Tree Care understands the value in a good work/life balance and how achieving this balance creates a happier and more satisfied team which in turn reflects in higher quality tree work and on the job attitude. We value quality of care both towards our employees and to the way we approach our clients.
One of our core values is guaranteed customer satisfaction, we will go above and beyond to ensure that each and every client is satisfied with our work. We aim to leave each site looking as presentable if not more presentable than when we arrived.
We believe in collaboration and sharing of knowledge. The tree service industry is a dynamic and challenging industry where new techniques, opportunities and skills are continually arising and being developed. We often invite trusted and reliable industry arborists from across Vancouver Island and the mainland to come and work with the Advantage Tree Care team. This approach brings significant value to both them and our crews as well as to our clients. We bring on board arborists who have global experience, who have worked in multiple countries around the world including New Zealand, Australia, Japan and the UK among others. This diversity helps to build and expand on techniques and skills within the industry, thus refining the overall approach to ensure that the tree services delivered are current and of unparalleled quality.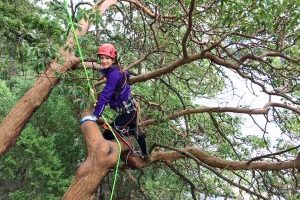 Competing at the BC Tree climbing competition



Us Outside of work
Being arborists is a physically, challenging but rewarding job. We are dedicated and passionate about what we do both in and out of the work place.  Our tree climbing abilities are a useful and fun  skill set to use outside of the work place. We take the time to go to tree climbing competitions, recreational climbing and volunteer for positive environmental causes. This is a rewarding component of our lifestyle where we are able to play with our skills, refine our techniques and enjoy the views from high up in the trees. This ability to climb freely without the pressures and time constraints of work, aid us in improving our overall techniques and efficiencies of safely moving around trees which leads to a safer and more productive work place.