Beautifying backyards in Oak Bay and Greater Victoria since 2008!
Caring for your trees
Advantage Tree Care are your local certified ISA Arborists and tree care specialists in the Oak Bay area.
We offer a range of arborist services from tree pruning to tree removals, and tree health inspections too. With over 16 years of experience in the tree industry we are well equipped to handle any size or type of tree work. Our primary goal is to take care of you and your green spaces every step of the way.
If you have trees that need some TLC, we can help! 🙂 Contact us to discuss your needs or schedule a free initial consultation.
About Oak Bay
Oak Bay, like every other town here on the island have tons of beautiful trees from large towering Douglas Fir and Western Hemlock, to Arbutus and the protected Garry Oaks too. Keeping your property looking well isn't always an easy (or safe) task, that's why it's always a good idea to see help from a professional. Learn more about care for Garry Oak trees.
Oak Bay is a seaside community located in Victoria on the southern tip of Vancouver Island known for its upscale neighborhoods, picturesque beaches, and charming village atmosphere.
Some popular attractions in Oak Bay include the Oak Bay Marina, the Oak Bay Beach Hotel, and Oak Bay Village which is a charming shopping and dining area that features a mix of independent stores and restaurants. The Uplands Park is a large park with beautiful gardens, hiking trails and playgrounds. The Oak Bay also features a number of golf courses, including the Victoria Golf Club and the Uplands Golf Club.
Oak Bay is known for its luxury homes and upscale neighborhoods, which offer stunning views of the water and the Olympic Mountains. It is a popular place to live among retirees and families with children, and it is known for its safe, quiet streets and strong sense of community.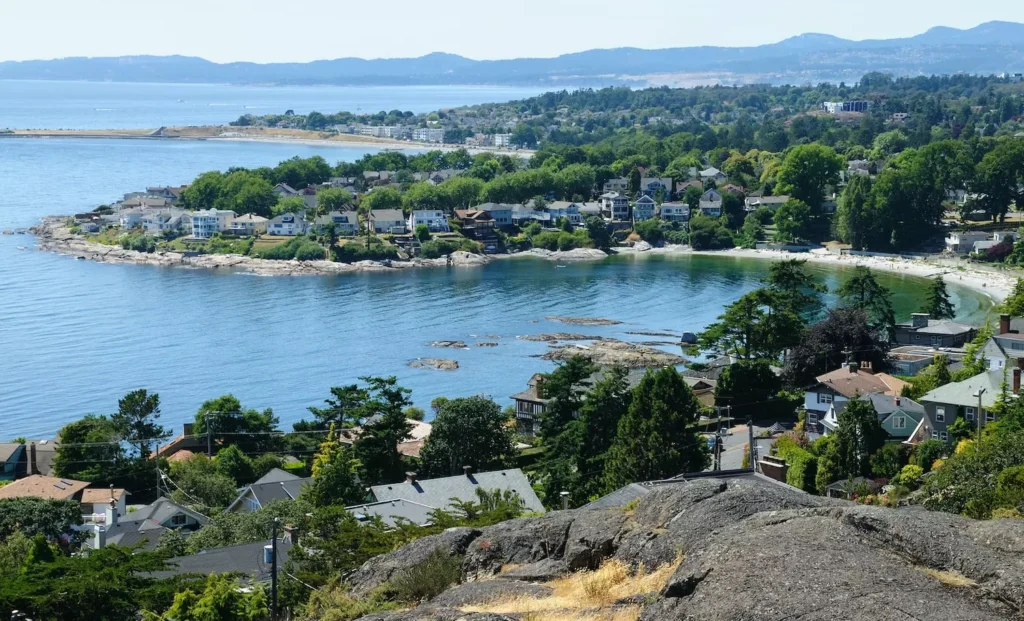 Tree Removal Permits in Oak Bay
The District of Oak Bay has specific rules for cutting down trees on your property. To remove, extensively prune, or top an existing tree located on private property, you may require a Tree Removal Permit. Visit their website for more information.
Oak Bay Tree Bylaw (best resource)
Oak Bay Tree Bylaw (city website)
Tree Protection Bylaw
For those who need information about tree removal permits, we have a detailed breakdown of the Tree Permits and Preservation Bylaws for each municipality in Greater Victoria. Depending on where your property resides, the tree preservation vary so best to read up on the Bylaws for your neighbourhood. We can assist with this to help get you started. Please call us to discuss.
Tree Services offered in Oak Bay
Our team is licensed, insured, and meets the highest standard of safety training. Our tree care and arborist services include;
Tree Pruning in Oak Bay, BC
To the layperson pruning a branch may seem like a simple act. However, there is a real art behind effective pruning, from both a tree health and tree aesthetics point of view. We pride ourselves in the highest quality craftsmanship when it comes to tree pruning and maintenance. We  provide a variety of tree pruning services including;
Structural pruning
Tree reductions
Tree thinning
Building clearance
Dead wood removal
Hazard prevention pruning
restorative pruning (when the tree has previously be poorly pruned)
Fruit tree pruning - further details below
Sensitive species pruning e.g. Garry Oak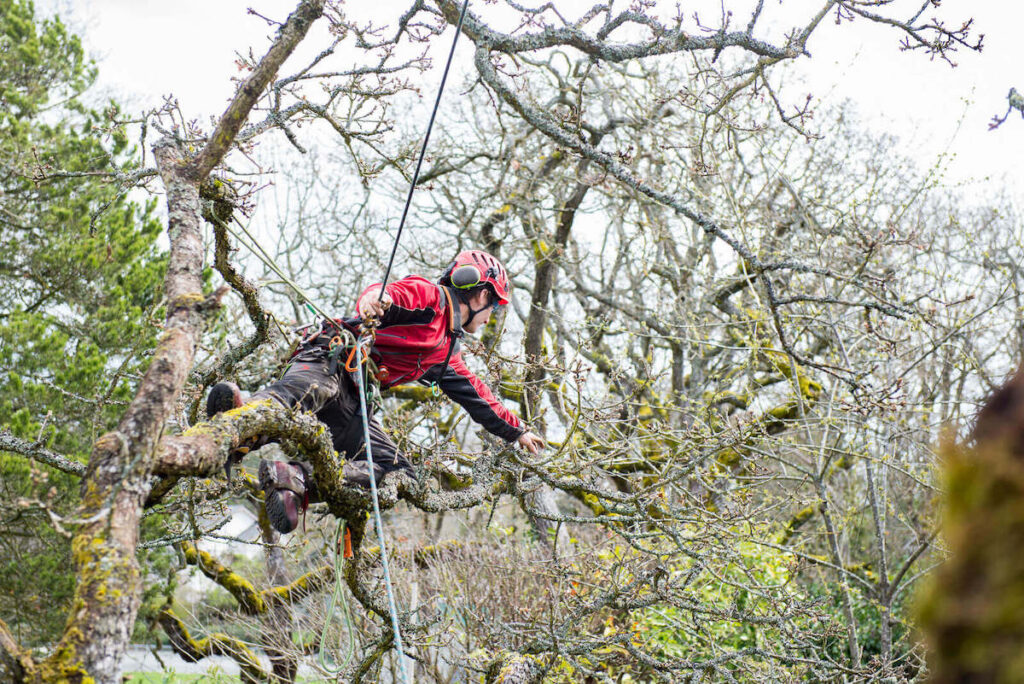 Meet Your Greater Victoria Arborists
Why Advantage Tree Care?
One of our core values is guaranteed customer satisfaction, we will go above and beyond to ensure that each and every client is satisfied with our work. We aim to leave each site looking as presentable if not more presentable than when we arrived. You can rest assured that you and your trees are in the best of hands possible
To learn more about us and our qualifications, meet the team.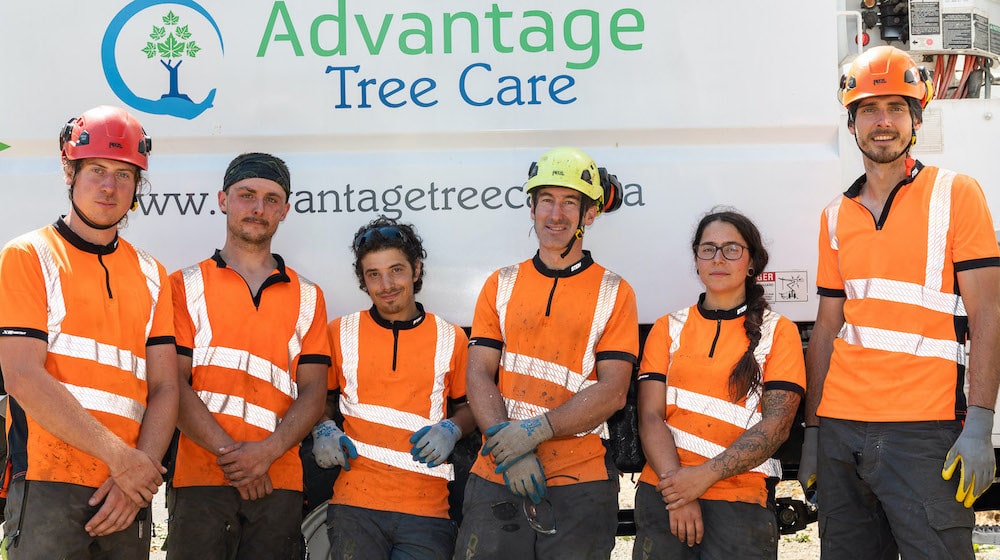 Get in Touch
The Advantage Tree Care team of experienced, ISA arborists is here and ready for action. You can be assured that you and your trees are in the best hands possible.
We work with both residential and commercial customers to meet their tree care needs, with over 15 years of tree industry experience. Our ISA certified arborists are skilled, educated and operate to ISA industry work standards whilst maintaining safe working practices.
For a quotation and onsite visit, please call 250-508-4445 or visit our contact page to send us a message. Or find an arborist on Google.
Things to do in Oak Bay
Some popular things to do in
We have hired this firm three times and highly recommend them. Daniel, the owner, is very experienced and qualified. He ensures he understands what the customer wants done, and checks back throughout the job to make sure it is what the customer wants. He is also very concerned about maintaining the health of the tree and adhering to the municipal bylaws for tree management. -Heather, on Google