Tree lopper, tree topper, tree cutter, tree surgeon, are some commonly used terms people use to describe an arborist. However, these terms are not an accurate representation of what an arborist is or what an arborist does.
So, what exactly is an Arborist?
An arborist practices arboriculture. Arbor is Latin for "tree" and culture comes from the Latin cultus which means "to care". Tree care. 
Arborists are tree care professionals, who blend art, technique and science together in order to deliver effective tree care whilst also managing and mitigating risks to people, property and trees. Arborists typically work in the urban environment and are the people who balance the relationship between humans and trees.
Arborist is an overarching term that describes a variety of job roles. In order to practice as an arborist one has to have a good understanding of tree biology, physics and ecology with extensive tree identification knowledge. An arborist also needs to have in-depth skills and experience with working at height from ropes, operating chainsaws and other machinery.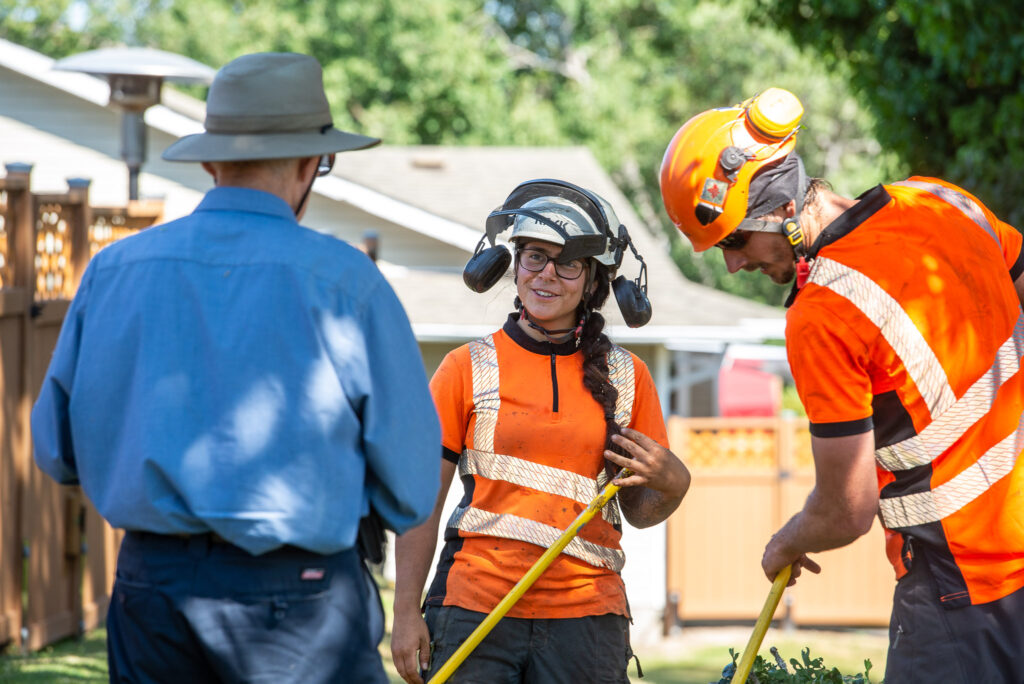 The Climbing Arborist
Depending on an individual's preference there are several avenues through which to specialize in arboriculture. For example a climbing arborist would refer to someone who has developed knowledge in tree biology and tree physics and has trained in various tree climbing techniques, using ropes to safely access and work within a tree canopy whilst operating a chainsaw.
They would also have a good grounding in physics with an understanding of how to safely and efficiently rig large sections of wood using ropes and pulleys to mitigate damage to people and property.
The Consulting Arborist
A consulting arborist may have chosen to study more in-depth into tree biology, soil ecology, tree health and disease and tree risk assessments, they would know how to operate tools such as a resistograph to identify decay in wood and would generally be more desk based carrying out tree surveys and preparing reports. 
Advantage Tree Care is a certified ISA Climbing and Consulting Arborist serving the Greater Victoria area. Speak with a local arborist today and tell us about your tree care project.
So what does a typical day for a climbing arborist look like?
For starters there is no typical day, one aspect of being an arborist is that nothing is certain, things change and you need to be adaptable. Nonetheless there is a general flow to a day starting with identifying the day's jobs and the necessary tools, equipment and skills needed to perform those jobs. We will arrive at the job-site and set up a safe working zone which would include laying out cones along the street where machinery is parked.
Tailgate – walk-through
On every job site it is essential that a "tailgate" meeting is held, where the team come together to talk and walk through the job, laying out a plan of action and performing a hazard risk assessment as well as identifying an emergency action plan in the event of an on site accident. Safety and communication are paramount when working as an arborist for both the team and client management.
Clear and Constant Communication
Communication with the client is integral to a successful day at work. It is not always the climbing arborist on site who has previously spoken with the client and quotes the job. Therefore, it is important to build rapport with the client ensuring that their expectations are understood and that they are clear on the work to be performed. Sometimes this can involve walking round the yard with the client discussing particular nuances of the site.
Preparing for Work
During this time the other crew onsite will have prepped tools, climbing gear and moved any property such as bird feeders that may be in the way of the trees to be worked on. It is now time for the climbing arborist to perform a visual tree risk assessment before they start climbing into the tree to carry out the work. 
This assessment identifies if there are any specific risks to the climber for example hanging branches that may fall as they ascend the tree or if there is decay or weak points in the tree that would influence how the tree work will be carried out.
Are we Pruning, or Removing?
When it comes to a climbing arborist there are two higher level categories of tree work, tree pruning or tree removal and under each of these categories there is a wider variety of techniques, practices and sciences behind how they are carried out depending on the tree species, its health and the job description. 
What to learn more?
Learn more about tree removals or tree pruning, or check out some of our latest work on our portfolio page. If you have any questions about out tree care services, send us a message via our contact page